It  automates everything about analytics – collecting data, transforming it into insights, managing KPIs & KPIs tracking, saving time with automation
You're going to agree with me on what this article has in it because this review is true to its heart. My company easily gained its assets after tracking the traffic details and surely, yours will too.
New to the software or an old client, this review is going to benefit you a lot. 

If you own a marketing company like any e-commerce giant, you would need to map out the entire funnel strategies. If you are looking for such an application, do less worry, I am here with a solution. Funeelytics is for you. Want to know I have been keeping my foot down for this application? Look out for this Funnelytics review.
About Funnelytics: What Is Funnelytics?
Remember the process you have to go through while buying from Flipkart – you have to search for it, look throughout for the best, view the product, add it to the cart, and then purchase. This process is called a marketing funnel. The marketing scheme is indeed shaped like a funnel. 
Made to simplify your workload, Funnelytics helps you plan, measure, and improve your skills in the creation of a funnel for your marketing schemes. It is a mapping application for designing and analyzing your funnels. Aiming to solve tracking problems many marketers face daily, Funnelytics has 3 core activities as functions – 
Mapping your funnels to profit generation and low traffic

Traffic tracking to reduce slowed down results

Result analysis at your ease
The software supports the English language for customer accessibility and helps you track results for marketing schemes. You have canvases with mostly icons and pages which obviously can be edited and customized by you. 
Unlimited mapping schemes are available at every price. Pro and Agency scheme of Funeelytics provides you some features like Premium Funnel Templates, Collaboration, and Forecasting for Mapping area of the service.
Analytics service provides you people sessions, Ad clicks, Profiles, and much more for ease of use. 
The service provides you templates and vaults which would be customizable by you. The Vault has more than 50 funnels which have been responsible for more than $1 million in online sales. You can share and collaborate the notes for everyone to be on the same side of the page. You need not have a developer for coding to track your results.
You can know where the traffic in your results is coming from by using the UTM (Urchin Tracking Module) Parameters which helps you to see through this from where the best traffic is coming from. You also get access to URL sites when you advertise through Google Ads.
Worries about the working of your funnel? You will get an overview of your funnel's performance through KPI (Key Performance Indicators) which can be activated by enabling the listed option of "Add as KPI".
Did you know just like we see the news channels broadcasting the forecasted weather of the area, you get forecasted reviews from this software as well.
According to the numbers and inputs you give, it forecasts your Return on Investment (ROI) which highly in favor of your company shows that your expectancy is equal to the result. 
Let us read through as to who all and what you can use this service site for marketing schemes.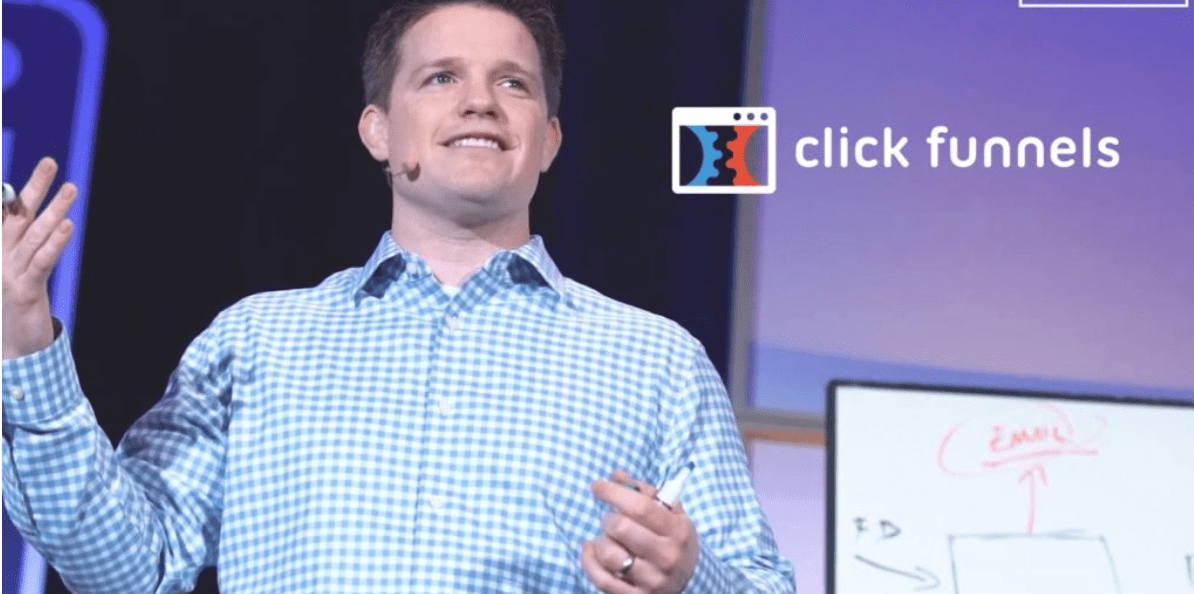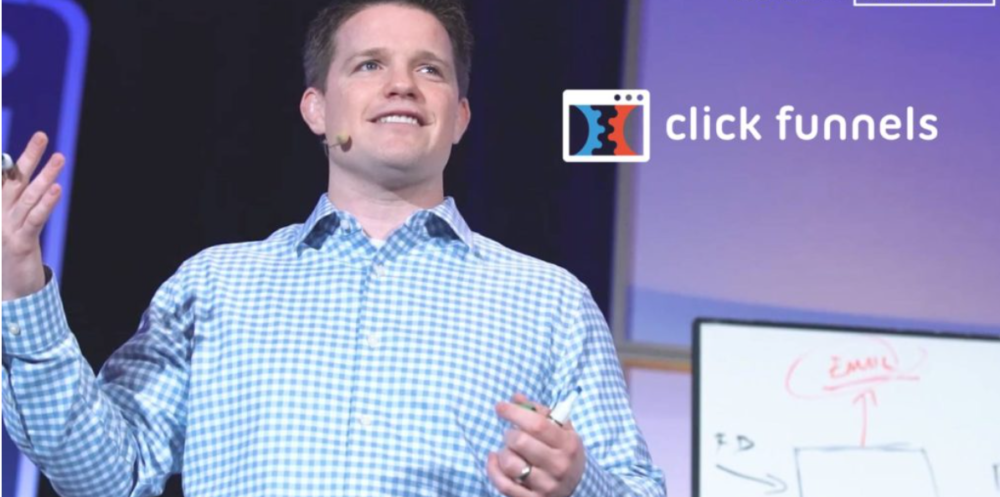 Russell Brunson, co-founded ClickFunnels
Over the past 14 years, Russell has followed more than 2 million entrepreneurs, sold more than 450,000 copies of his books, popularized the concept of sales funnels, and co-founded ClickFunnels, a software company that helps 90,000 entrepreneurs get to market quickly. on the market.
Russell has been featured in major publications and websites such as Forbes, Entrepreneur Magazine, and The Huffington Post. He's also the host of the number one business podcast, Marketing Secrets. In 2018 he was named "Entrepreneur of the Year" in the Utah region by ey.com. Russell also works regularly with nonprofits such as Operation Underground Railroad and Village Impact.
Russell Brunson Linkdein
Who is Funnelytics for?
Anyone looking for software for your marketing purposes, always choose Funnelytics. It is because you can always get mapping features with the Starter plan but to receive emails, conversion tracking, Facebook integration, and much more you need to buy the Pro-version.
You can always save your time by investing it in just one software instead of going after a group of experts who cost you time and expense as well.
People who easily run out of ideas to design a template, welcome to Funnelytics where you are never going to experience such troubles. 
Funneytics, mapping-tracking-analyzing marketing software is built for e-commerce establishments to tracks their sales and customer purchases. A funnel is major employed for tracking the follow-up to system conversions.
Marketing giants like Amazon, Flipkart, eBay, Snapdeal, and much more use these funnels to get alerts for activities like when someone signs up on the site, search for a product, purchases it. You, as a company can also watch where your customer left the conversion process.
Funnelytics Features:
Funnel Mapping
The sales funnel isn't so simple as it appears linearly. The creation of a diagrammatic or visual representation of sales funnel is known as funnel mapping.
A funnel map depicts diagrammatically the whole sales process from start to end. It is not needed to be more or less other than the information details helpful to you.
Plotting out each element on sales funnel mapping:
Traffic source: The process of getting people into the sales funnel. How do you get them?

Website Content: if or whether you are sending them to a blog post.

Landing page: The process of convincing people to download the offer. How are you going to convince them?

Offer: how do you attract the visitor by providing valuable offers that will make you get their contact information.

Thank you page: Attracting the visitor and drawing them down to the funnel to continue with this thank you page.

A confirmation email: A confirmation email is sent and maximizing the value your lead gets from your confirmation mail.

Follow-up email: The procedure of following up on the lead's progress.

Remarketing: a marketing strategy to continue the lead through the sales process.
By mapping, you will be able to break down the process into manageable parts.
Analytics
Funnel mapping and analyze mode are two popular modes in Funnelytics. Analytics mode is available only in the pro version. Funnelytic analytics allows you to explore the process where necessary changes can be made.
It is possible to track the way that will be followed by customers, directly from the traffic source such as placing an order or scheduling a meeting.
Analyzing external traffic to funnels and pages can be done with UTM tagging.
When a traffic icon is connected to the UTM code, the icon is automatically updated with traffic analytics from the page.

When creating a map in Funnelytics, a traffic icon must be connected to the page icon and not vice versa.
Templates
Templates facilitate you to use a funnel design again and again without having to start from the scrape every time. Hence, consumption of time is less.
Can create a template, saving and editing a funnel, and using a template in a funnel.
Click on the save as a template option located on the sidebar to save the template.

If in case you want to edit the template, go to the template folder on the dashboard, select the template to edit, make changes, and then click on the Save button.
Do you have a funnel that you are astonished about? Create a template and save that funnel as a template and reuse it. Testing new landing pages, ads, or flows in an existing campaign.
In Funnelytics, your templates are saved in a folder on canvas, and use it whenever required by dragging it onto the project.
Sharing the template becomes an easy task with team members, friends, and clients. Just copy the link and share the link with whoever needs access by which they can use templates for their own business.
And most importantly the user with whom the template is shared must have the Funnelytics account too. There are even free templates to use for projects in Funnelytics.
Collaborations
Teamwork always gives the best output. When I work alone the task becomes difficult to be done wherein the case of teamwork, the whole task can be divided, things get a lot easier. Collaboration towards a common goal gives more creative ideas and high opportunities to learn and grow. Funnelytics allows you to collaborate with the marketing team to logically plan all the points.
Allows working with the sales team to see where leads are coming from.  
At Funnelytics, collaboration outputs success all the time.
The successful collaboration includes some significant steps to be followed:
Establishing a clear goal and clear objective where the goal of the funnel is to be decided whether it is to get more leads or make more sales.

Responsibilities are to be defined earlier that is before starting the project. Individual's responsibilities must be known by everyone. Each one will be set up with a goal.

Communication is the most important thing to be followed to establish a successful collaboration. Consistent communication must be maintained in all the meetings whether in a boardroom or a conference call. The progress of the project or drawbacks and hurdles are to be discussed often.
Integrations
An integrated sales funnel means you can track, map, and analyze your sales and purchases using the software. The Funnelytics script indeed has a special script that can be downloaded using the Google Developer Tools, but it does not support the Single Page Applications. 
The tracking script is not available at the software itself but can be downloaded from any considerable website, sales funnel builder, landing page builders, webinar platforms, and shopping cart solutions.
I also struggled with the same while wanting to track my company's sales, but overcame it by installing the tracking scripts available at WordPress, Kartra, Shopify, ClickFunnels, etc. 
Funnelytics Co-Founder Featured In Forbes
— Russell Brunson's innovative startup that has been silently revolutionizing the online marketing industry — there wasn't a single VC in sight. There was no one there to make suggestions on sales strategies or attempt to influence Brunson's business plan to scale or flesh out the platform in any shape or manner.
Nope. Not one. Brunson was on his own.
Credit: Forbes
You can even check the Appsumo Coupon Codes to get up to 90% OFF Funnel tools like Funnelytics.
Pricing: How Much Does Funnelytics Cost?
Funnelytics comes with extremely affordable price constraints and provides 3 different pricing packages. Each plan gives you the option to choose between monthly and yearly access plans. In this review, we have shared the three plans. 
Starter Plan:
Price: Free
Starter Plan is free of cost and allows you to use mapping and planning features. They offer a strategic plan to monitor funnel growth and strategize the funnel.
The incentives that you receive with these plans are:
Three Canvases.

Six templates.

A workspace.

Access to a free account.

More than 70 marketing icons.

Exporting facility.
Marketer Plan:
Price: $49 monthly or  $470 yearly.
Marketer plan allows its users to form partnerships with clients, and track the growth of the funnel. All the features of the starter pack are included in the same and it has additional benefits of funnel forecasting.
Incentives:
All benefits of the starter pack.

More than 50 premium templates.

Unlimited Canvas.

Wide range of customers.

Unlimited clients.

Access to customizable icons.

Workspace [2].

Conversion of the forecasting.

Revenue and profits

And many more.
Pro Plan:
Price: $790 yearly.
They have all the benefits of a starter and marketer plan. The additional features provided to them include tracking the funnel and monitoring growth. It also gives you the feature to strategize your partnerships and funnel.
Pro Plan does not contain monthly access plans. 
Funnelytics gives you a satisfaction period of 14 days in which if you are unsatiated with their features you can cancel the subscription at any particular point.
Another feature that makes the Funnelyticsprice chart interesting is the feature to buy extra workspace for $9 a month. This feature is limited to marketer plan and pro plan only.
Negatives
The instrument offers a great deal of usefulness at the cost yet on the off chance that you can't remove the most extreme usefulness out of Funnelytics, it may look marginally extravagant.
There is no fix or re-try choice when planning the channels and no alternative of autosave too. In this way, it is vital for continuing to save your work physically now and again.
Likewise, a wide library of local incorporations should be assembled beginning with Zapier.
The Affiliate program
In the event that you can qualify, ClickFunnels is a truly outstanding, genuine associate advertising program that you can be a piece of.
However, it's not exactly as open to everybody as it used to be.
Everybody can apply to turn into an essential ClickFunnels associate. This allows you to advance the front end offers in the ClickFunnels ecosystem which incorporates DotCom Secrets, Expert Secrets, and the One Funnel Away Challenge.
Be that as it may, in the event that you need to advance the ClickFunnels programming itself, you need to meet two extra prerequisites:
Taken the Affiliate Bootcamp course
Made $1,000 in ClickFunnels subsidiary commissions over the most recent 30 days
So this is a significant test for new subsidiaries. Be that as it may, assuming you meet the prerequisites, the full ClickFunnels partner program gets you going at 30% repeating commissions for each reference you make and you can win cool prizes like $500 towards your own special Dream Car once you hit 100 dynamic references.
Funnel Flix Training
Need to level yourself up as an advertiser? At that point, the Funnel Flix preparing that is accessible is a splendid asset, that everybody should exploit.
There's a whole assortment of ClickFunnels centered substance that you get as a component of the Standard arrangement including the:
30 Days book recordings
Subsidiary Bootcamp
Channel Builder Secrets
Item Secrets
Channel University
Channel Flix
Yet, there are other incredible preparing modules too including Ad Skills, which is a top-notch course for learning paid traffic systems and even Tony Robbins Private Collection is on there.
On the off chance that you overhaul yourself to ClickFunnels Platinum, you gain admittance to much more preparation from legends like Frank Kern and Dan Kennedy.
Funnelytics vs Marketplan.io
The common features
Funnel and Marketing Strategy Mapping: Both MarketPlan and Funneltyics have awesome material that allows you to delineate your advertising and deals channels. There are a lot of traffic sources and page types to browse on both devices.
Run projections on Conversions and Revenue: Even before the mission is live, you can run a total reenactment of projected income dependent on your normal change rate in each phase of the channel. This is a truly significant component for organizations where they can show the projected ROI they can accomplish in a mission outwardly.
Live Tracking of Leads, Customers, and Revenue: Once the mission is live, you will actually want to follow the leads, clients, and income your mission acquires. This can be coordinated and contrasted with extended income to keeping everything running flawlessly and to continually improve your offer and the funnel for better outcomes.
Pricing
Plans for Funnel Mapping and Projections start at $9 each month in Marketplan, though it costs $49 each month in Funnelytics.
With regards to plans with Live Tracking, MarketPlan begins at $29 each month. In any case, Funnelytics doesn't accompany a month-to-month plan for Live Tracking.
The best way to perform Live Tracking with Funnelytics is to pay yearly forthright that begins from $790 each year.
What People Are Talking About Funnelytics On Trustpilot
FAQs On Funnelytics Review:
✅Can I Build Funnels with Funnelytics?
No. You cannot build funnels with Funnelytics because the software is built for mapping, tracking, analyzing, and optimizing the funnels visually.
🥇 Can I have a Free Trial on Funnelytics?
No. Funnelytics does not offer free trials to any customer, but a 14-day satisfaction guarantee is offered when you subscribe to Pro plans.
🏆I am confused about my account settings. How to access it?
Don't worry, peer- user. You can access the settings option at your Dashboard where you will see - Account Settings and My Subscriptions. You can change your name, email ID associated with the account and even reset your password at Account Settings. My Subscription would help you with your subscription details.
💼 Is Funnelytics Free
Funnelytics has a free plan that gives map funnel with 6 templates. For tracking related features, you will have to upgrade to the pro plan.
💥 How much Funnelytics pro costs?
Funnelytics Pro Plan costs $99/month and depends on the number of people you want to track.
🏆 Is there Any Funnelytics Lifetime Deal 2021 Available Now?
Currently, there is no lifetime deal for Funnelytics. Earlier, the lifetime deal was $595 for one-time.
🔥 Is there a Funnelytics Certification for Agencies?
There is so much for the agencies using the Funnelytics Accelerator Program. This program costs $1,997 that will teach you and guide to take digital marketing agency to the next level.
🥇 Why Should You Choose Funnelytics Over Others?
Funnelytics is a very fantastic tool if you know how to manage the software. Funnel mapping makes it easy to show your funnel ideas to others. This is a better way to let your employees understand your funnel ideas
👉🏻What is Funnelytics Academy?
Funnelytics Academy is a FaaStrack program that gives Funnel as a Service to its clients. It consists of six courses and Funnel Mastery includes 19 lessons worth $195.
👉 What are some best Funnelytics Alternatives?
Though Funnelytics is an amazing funnel buider, you might need some alternatives. Some best Funnelytics alternatives are ClickFunnels, geru, Google Analytics and GrooveFunnels.
🏆 Is there a lifetime subscription available from Funnelytics?
They no longer sell lifetime plans and only sell yearly plans now.
🎗 What are the various Funnelytics packages?
The Funnelytics starter plan is a free sales funnel mapping tool. You can use the mapping tool to visually lay out your funnel, just like you would on a whiteboard. Everything from your landing pages to your sales pages, upsells, emails, advertisements, and more can be customised to your preferences. Join Funnelytics PRO to activate predictions and analytics! This will allow you to track and evaluate the flow of traffic through each phase, as well as many other useful capabilities! PRO subscriptions are offered on an annual basis.
⚓️ What's included in their free mapping tool?
1 Workspace, unlimited funnel canvases, custom icons and images, basic funnel templates and Email Support.
🚀 Does Funnelytics display live analytics?
They certainly do! With the click of the 'Numbers' button, you'll be able to obtain accurate, live statistics from the minute you instal the tracking script! You can also use our Forecasting function to run simulations.
♦️ How can you get in touch with customer service?
They want to hear from you, so their dedicated customer service team is available Monday through Friday from 9 a.m. to 5 p.m. (EST) to help you with any questions, complaints, or suggestions you may have. Please send a message to PRO plan members via the Intercom bubble in the lower right corner of your dashboard within your account, and they will respond as quickly as possible (normally within 24 hours). Members of the Starter plan can email support@funnelytics.io, and a member of their dedicated support staff will respond within 48 hours.
🎨 Is there a Public Roadmap available? What is the best way to submit a feature request?
Funnelytics does not have a public roadmap, however they do keep track of all feature requests on their back end. As they continue to develop and enhance their goods, they urge you to provide feedback and any requests you may have.
💫 Is Funnelytics good for me and my company?
YES, we believe! Whether you're a beginner or a seasoned marketer, Funnelytics is a fantastic tool. Whether you provide marketing services (freelance job, agency owner), are a coach/consultant, or work as a marketing manager for a firm, there are a plethora of ways to use the tool to your advantage.
🔥 Who created Funnelytics?
Mikael Dia is a digital marketing expert and founder of Funnelytics, a software company helping entrepreneurs and marketers convert traffic into customers.
⚡️ What is Cross-Domain Tracking, and how does it work?
Cross-Domain tracking allows you to track and receive data from multiple domains that aren't running the Funnelytics Script.
⭐️ Why isn't there any data in my funnel?
The most common reasons why data isn't showing up on your funnel is all sites must have the Funnelytics Base script, which must be included in the body before the closing /body> tag. Using the browser developer tools, you may check if the script was properly installed. Make sure you've mapped out your funnel in the correct order. The whitelist must include cross-domain tracking.
🪵 What is the base script for Funnelytics?
This is the script that your site's workspaces have been assigned. The script is placed before the closing /body> tag in the body part of every page and allows your canvas to capture the customer's journey through your funnel.
🍃 What does Funnelytics integrate with?
Funnelytics Pro doesn't integrate with any software. They're working on it, though.
🍁 How does Funnelytics keep track of visitors and conversions?
UTM links are used by Funnelytics to track traffic. UTM links allow you to identify the source medium as well as the campaign from which they originated.
💧 Is it possible to utilise Funnelytics to create pages or send emails?
No, Funnelytics is exclusively for designing and analysing funnels. You'll need a page builder like Thrive Architect or ClickFunnels to put the funnels into action. Email marketing will require the use of third-party tools such as ConvertKit or ActiveCampaign.
🌵 Is it possible for me to share my funnels with my customers and peers?
Yes, indeed! You can save your funnels as PNG/PDF images or share a link to them.
Funnelytics Review Conclusion: Is The Best Funnel Mapping Software? 
Funnelytics is no wonder the best software that is present in the market. It gives access to many incredible features and is always enhancing its current feature. The features are updated almost every day and even the minute details are taken into consideration. They provide extensive user support giving people an interesting learning option.
The feature that sets this platform apart from any other is its completeness, it saves you time and money and I believe they are the greatest human possession.
Funnelytics gives you a highly visual interface, and we humans are driven by visuals. The visuals make it easier to track the funnels and your growth. Whether you are new to the funnel market or an experienced person Funnelytics is your place for you to create some mind-blowing funnels, the platform is as easy as getting an idea printed out of your mind. 
So what are you waiting for? Get on this platform and explore a whole new world of funnels. Create, strategize, collaborate, and match more, and that too at a reasonable cost. Trust me if you are looking for a platform to settle forever with, Funnelytics is never gonna let you down.